Overview
Ext Gantt is the leading javascript-based Gantt chart which helps you manage your projects easily in any web application. The user interface is intuitive & interactive and supports using both mouse and keyboard. The Gantt chart is highly configurable and extensible, meaning you can create your own features and plugins. The
Pro
version is even more powerful and includes MS Project import, PDF export, print support and much more.
Our products can easily be integrated seamlessly in your existing Ext JS application, but they can also be added into any HTML page on your site.
Buy Now
Live Examples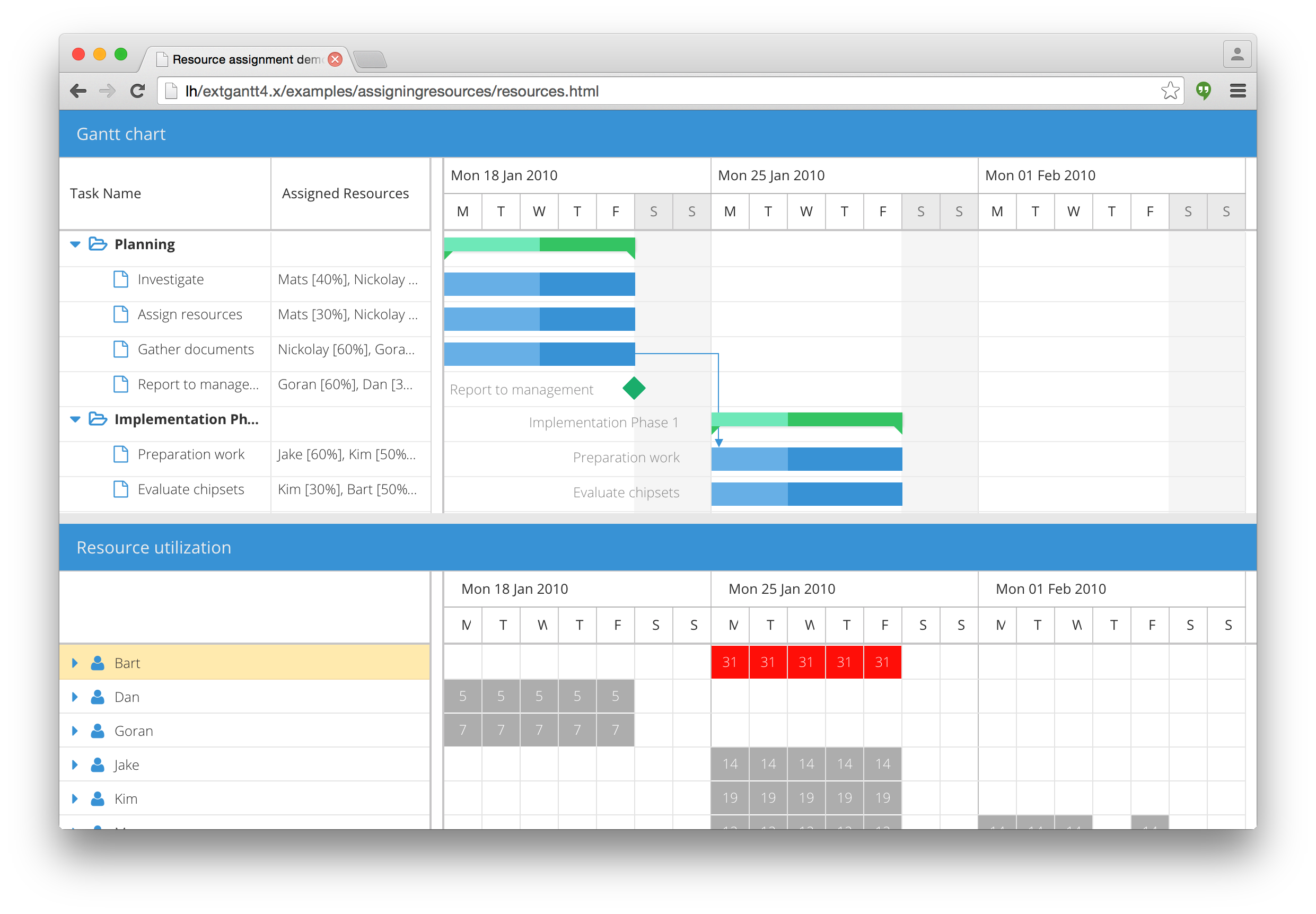 Key Features
Built entirely on web standards
Use with any server (PHP, Java, ASP.NET)
Supports task links, lag and CP
Export to PDF/PNG, import from MS Project
Supports all major browsers
Unit tested with Siesta
Getting Started
Download A Free Trial
Latest Releases
Latest news
SenchaCon 2016 in Las Vegas is only one week away we can't wait to show you all the new cool things we've...

We've just released Siesta 4.2.0 – an important Siesta milestone and in this blog post we'll highli...
As someone new to both Ext Gantt and Ext JS, your excellent guidance combined with a very robust product was greatly appreciated. Thank you for creating such a remarkably flexible tool for helping us to visualize our project data.
Read more…
Version Comparsion, Standard vs Pro Edition
| | Standard | Pro |
| --- | --- | --- |
| Basic Gantt Chart Features | | |
| Built-In Columns, Custom Column Support | | |
| Task Rollup Feature | | |
| Multiple Themes | | |
| Constraints, Histogram, Splitting tasks | | |
| Export to PDF/PNG | | |
| MS Project Import | | |
| Print Support | | |
| Resource Utilization Panel | | |
| Timeline Component | | |
| Additional Advanced Examples | | |